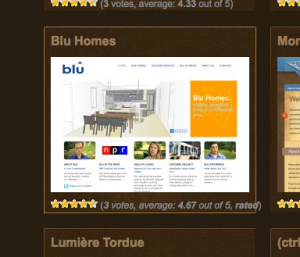 The web agency I work for, Fresh Tilled Soil, has just launched a re-design for Blu Homes that's built on top of a WordPress CMS.
It's now featured on WeLoveWP.com and has a pretty good rating so far. Pretty much everything you see is being managed by WordPress with the aid of some handy plugins. If anyone has any questions about how the site was built let me know I'd be happy to shed some light on our work.
The site was designed by Liz Abbate Hyman and developed by Alex Federov.